Fiber Optic Patch Cords is a plug and play components used in fiber optic systems, it is re-deployable, the fiber optic patch cord precisly match and connect the endface of two optical fiber cable, so that the optical light can be transmitted and received at the best performance and with miminum loss. Thus the quality of the fiber optic patch cords are important for the whole system reliablity.
Fiber optic patch cords can be simplex structure, this is the very basic tpye, and fiber optic patch cords can be duplex or multi fiber fan out structure, some fiber optic patch cord is with bigger connectors like FC, SC, some fiber patch cords are with smaller connectors like MU, LC, most of them are with ceramic ferrules.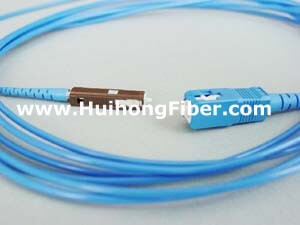 For the parameters of the fiber optic patch cords, insertion loss and return loss are important. the lower the loss is ,the better quality the cord is. There are other parameters such as working temperature, life time cycle, etc. but usually the loss should be tested and specified on the label of the fiber patch cord.